ART HELP FOR HEROES
GALLERY DANA BAY
June 19-July 11
Ashley Keene
Ashley Keene is a mixed media visual artist and designer from Dana Point, California. Growing up near the beach, her artwork has been heavily influenced by the local surf culture and ocean vistas, inspiring an array of bright colors that give her artwork a surreal and dreamlike ambiance.

Most of Keene's favorite work is unbound by the traditional canvas, as she prefers to recycle and repurpose a variety of materials, from broken surf and skateboards, to overly scratched vinyl records. In recent years, she has contributed to public art in South Orange County through participation in programs such as the Laguna Beach Art Banners and the San Clemente Street Art Program. In 2013, Keene was chosen as the local artist to paint an elephant for the Elephant Parade exhibition in Dana Point.

For more artwork by Ashley Keene, please visit www.ShleeArt.net.
Ashley Keene
Gallery Dana Bay


Because of the Brave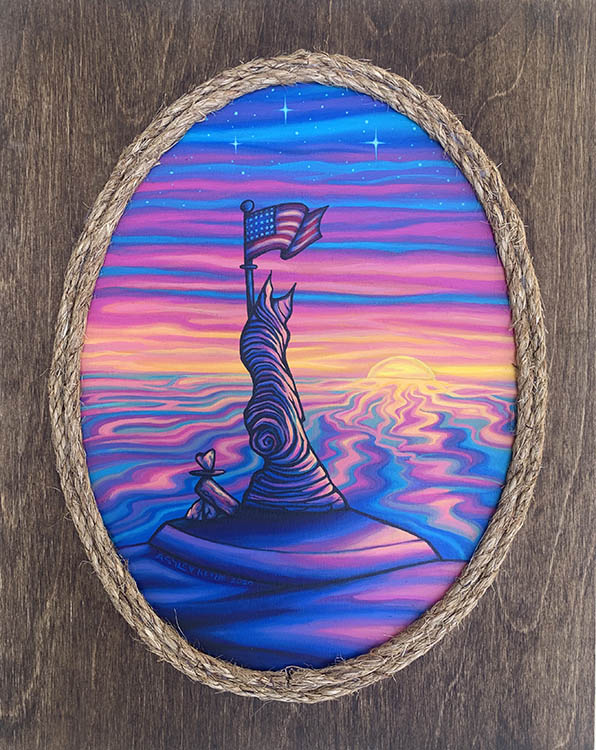 ---
Confidential offers will be made by contacting the Gallery via email at
GalleryDanaBay@yahoo.com
. The exhibition and availability of the artwork ends July 11. The starting price for each artwork is only $500. All art will be sold. Offers are being received now.
To encourage early offers, several artists have created a confidential 'buy it now', when achieved, the artwork will be sold with no additional or higher offers.
Forward the ART HELP FOR HEROES exhibition to all friends and family to enjoy the art and may share the desire to support the HEROES.
Supporters will receive a letter of appreciation and free local delivery. Convenient shipping.


Confidential offers in excess of $500 will be accepted via email to GalleryDanaBay@yahoo.com. All offers will be kept confidential. All works will be sold.


To encourage early acquisition decisions, artworks may have an artist-set confidential 'buy-it-now' fair-market price which can be accepted when hit or exceeded.


The artworks will be available for pick-up or free local delivery on or before July 4. Shipping to US destinations is $40.


Contact the Gallery for help. (949) 276-7597

To view the art, contact the Gallery for open hours, or in the time of Covid, by appointment. Press contacts please email us